It was a cold wet Saturday afternoon, but nothing could stop me from getting the fresh delivery of bareroots from Ashridge Trees in the ground. All the apples and pears are maidens, which are cheaper than cordens – i'm hoping to train them into cordens once I work out how to build the frame. All the apples are spur bearing, which is important if you are wanting to have a prolific little tree (rather than tip-bearing).
I ordered:
Cornish Aromatic Apple
Species: Malus domestica
Parentage: Unknown, probably very old
Originates from: England, United Kingdom
Introduced: 1813
Orange Pippin Cultivar ID: 1155
UK National Fruit Collection accession number: 1920-020
The Orange Pippin website says:
'Cornish Aromatic is an elegant old-fashioned apple variety from Cornwall.  The skin is rough and dry and and looks and feels like an expensive but worn old tapestry.  The flesh is firm, not particularly juicy, and the flavour is quite rich with a hint of pineapple.
It is quite a good apple tree for the garden, being easy to grow and resistant to the main apple diseases.'
Christmas Pippin Apple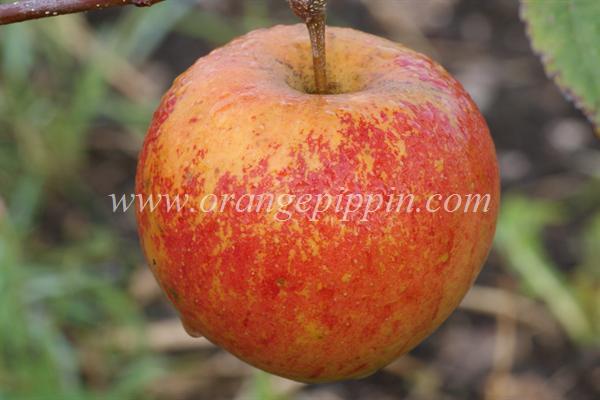 Species: Malus domestica
Parentage: Unknown
Originates from: Somerset, United Kingdom
Introduced: 2011
Orange Pippin Cultivar ID: 2004
I've already got one of these growing in my garden at home, which i'm really impressed with so thought I would get a second. Its actually a modern variety, crossed with gala – so i've surprised myself (I was looking for a late season apple). Its a sweet little apple, really fun.
'Christmas Pippin is a modern Cox-style apple discovered the old-fashioned way – growing as a seedling tree beside a road.
The parentage is unknown but the flavour is similar to Cox-substitutes such as Sunset.  The leaf-shape has a resemblance to Gala – a popular supermarket variety and therefore a likely candidate for being the source of the discarded apple core from which the original tree grew.'
Beurre Hardy Pear
I wanted Humbug pears, but the tree was out of stock, instead I bought these two French pears.
The RHS Fruit and Vegetable Committee awarded Pyrus communis 'Beurré Hardy' an Award of Garden Merit and described it as follows:
'Very melting and fragrant with rose-water perfume. Good, regular crops. Very hardy, vigorous tree; slow to bear; resistant to scab. Season: Nov–Dec.'
Doyenne du Comice pear
BBC Plant Finder says: 'Doyenne du Comice ' is a popular dessert pear with a fine flavour that was introduced from France in 1849. Pears flower two to four weeks earlier than apples and need slightly warmer conditions. The variety 'Concorde' makes a good pollination partner. All pears are grafted on rootstocks which affect their size and vigour, and may be trained in a number of different shapes. Pruning depends on the tree form and vigour of the rootstock, and should be checked in a handbook. 'Doyenne du Comice' should be picked in October while still firm and stored until November before eating.
Blackcurrant, Big Ben
Big berries, bred for eating straight off the plant rather than juicing.
Ashridge say:
'This huge blackcurrant is the biggest we've seen: at least double the size of other blackcurrants. Their bulk does not diminish their flavour: they are sweet (slightly more so than Ebony) and are delicious straight off the branch. These are vigorous plants and they crop early, so a sunny site is important to get the best flavour. Big Ben was bred for fruit to eat fresh, unlike most blackcurrants, which were bred for the juice industry.
The branches have an arching growth habit, which means they need a bit more room than other varieties, but they are also easy to pick and well suited for growing on wires.
They are resistant to leaf spot and mildew.'
Related post: